Project Highlights
New home for new business
Accommodating growth for 700 new hires
New look to reflect new line of business
Project budget $12 Million
Role
Managed a team through various planning and design phases, such as detailed needs analysis and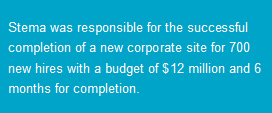 phasing of design and construction packages. Responsible for the successful completion of the site delivery in compressed timelines to ensure space availability for new employee hires.
The Complexities
The client was awarded a multi billion dollar contract which required the set up of new offices and the hiring of 700 new employees within 6 months. The new space had to be leased, designed, permit obtained, constructed, furnished and client moved-in within 6 months. Tender packages and project phases were detailed, so design packages and construction work could overlap and proceed without creating a bottle neck amongst the design and construction teams.
Unique Challenges
The compressed 6 month project duration posed a large challenge as the new corporate site had not been selected. Project milestones included: location search for new space in downtown Toronto, lease negotiations and execution, full design, build and client move-in.