Project Highlights
Optimization of the project

Modernization of the space

Introduction of space standards
1.5 Million square feet of space, 14,000 employees
Project budget $200 Million
Role
Managed a team through various planning and design phases, such as detailed analysis of needs,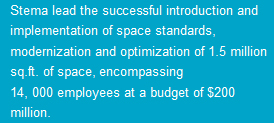 development of multiple occupancy scenarios and the creation of phased implementation plans.
The Complexities
The complete modernization of the base building and the retrofit of the "raw" space to meet the requirements of employees. Entire mechanical and electrical base building systems needed upgrading; including chillers, heat exchangers and standby power. Multiple phased moves required to shift occupants within the building to other swing space, so the upgrades and renovations could commence.
Unique Challenges
While the initial phase of the project was in implementation, two other lease opportunities were included in the scope of the project as additional phases. A further 550,000 square feet of space (one lease of 200,000 square feet and one lease of 350,000 square feet) were planned, renovated and occupied before the project was completed. Occupancy stacking plans were re-planned, occupants were relocated in light of the additional space and to make way for other sub-leases of the space. In total, the project successfully renovated 1,500,000 square feet and relocated 14,000 people.